Okay, I missed one last week. I was busy tidying my room, washing my hair, going on dates... (Yeah
right
; it was work as usual).
Here's
Very Small Array
. Brought to us by Dorothy Gambrell of
Cat and Girl
fame (which'll one day be a blog of the week here too, probably), this one is updated pretty irregularly.
As with the previous blog of the week (yes,
two weeks ago now...
) only the newest post ever shows on the front page, normally featuring an interesting visualisation of some obscure data. Somehow, most entries manage to be both quirkly funny and bizarrely poignant at the same time...
Check out this one, for example (as ever
click to enlarge/expand
):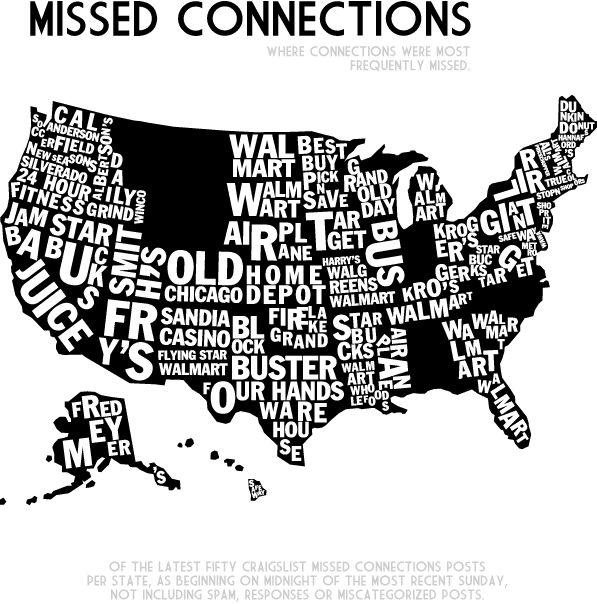 And for the confused or bored, let me elaborate.

Craigslist
is a site featuring free classified ads and discussion forums. The most well-known (or notorious) section of Craigslist is the "Missed Connections" area which features posts from people who thought they had some kind of brief but unarticulated spark with someone, usually a stranger, usually in a public place. For example:
You were on the Central line and I got on and we made eye contact a few times. You seemed very tired, but you still looked cute. You had on a brown knit sweater on top of a plaid undershirt, and some cute loafers.
The ads are written in the hope that that stranger (or whoever) will read it and recognise themselves described in the post and reply and then that something will happen...
The site is used all over the world, though it was started in America, and the locations where "connections" are missed are, as you'd expect, very varied.
So the above image shows the names of places where connections were most frequently missed by State, displayed in the actual States themselves. While I have no idea what the black patches mean, there's something poignant about the data being presented in this way with the stark white-on-black. Instead of being given their proper names, States are labelled with the names of corporate coffee houses (like Starbucks) or popular shopping destinations (Wal Mart) and I can't help but picture lonely people wandering around with shopping trolleys or sitting quietly desperate with coffees, surrounded by so much stuff but still hoping for something as simple as a "connection"...
I'm not sure if this counts as webcomic or not but it's pretty powerful stuff and I can't imagine it existing in any form quite so potent and far-reaching as a blog.